Everyone related with web design world must be aware that the main purpose of create a website is – SALES! All the efforts made and tools used are necessary to bring potential visitors to your website. Given below are 10 most important DO's and Don't s for an effective Static website design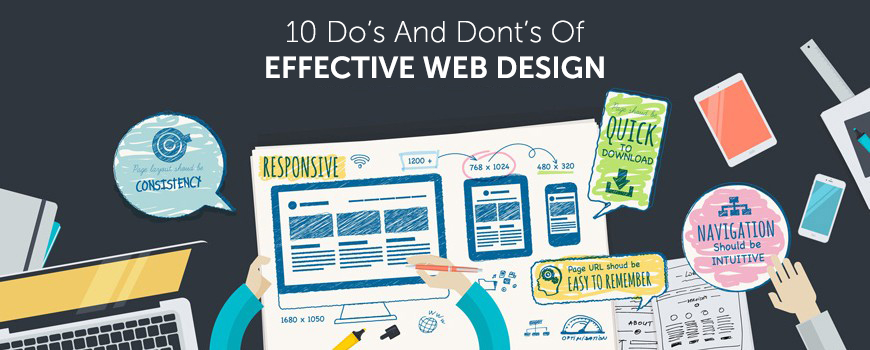 DO's – Good For Website Success
DON'Ts – Can Be Harmful for your business
1. Use The Best Color Scheme
Bright and loud colors are never admired for corporate websites. These are good for gaming and casino sites. Always keep in mind the mindset of your readers and their emotions – e.g., a hospital site will never have animated items and bright colors but usually has a light decent color scheme.
2. Easy Navigation
Ensure that your website is easy to navigate. Visitors are not going to spend hours in searching or locating or even trying to figure out what you want to say. Using pull quotes, images and block quotes are recommended. Html tags are also important since they focus on important sections of the web page.
3. Pages Structured
Properly manage all the pages of website. Use grid layout system which helps to store all information in structures and the format is quite easy to follow too.
4. Copywriting
Content does matter a lot. It needs to be easy to understand, to the point and meaningful. Selecting catchy headlines, attractive content and right words can be a boost to any website.
5. Focus To Important Things
Are you making a corporate website or an online shopping store? Focus and display the core items at the home page and use suitable calls to actions for inner pages. Bloggers can focus on tutorials or free e-books to get attention of visitors.
6. Placing Boxes Everywhere
Never use too many boxes everywhere. Boxes in different sizes and without any alignment can be confusing to your visitor.
7. Irrelevant Ads
Too many and irrelevant ads in any website can be really annoying for visitors. If visitors get to see irrelevant or too many ads in a website, they are surely going to leave the website to never come back again. It is a fact that everyone uses ads to make money but ads stuffing can be a real problem.
8. Writing Long Content
Never write too long content on site pages. The average content length of a page should be 500 to 1000 words. Blog articles or posts which are lengthy and without any paragraph breaks are never liked by readers. It is highly recommended to use short and crisp paragraphs with catchy headings which convey meaning easily.
9. Too Many Images
Plenty of images in your website are certainly going to make your website load slowly. Your visitors will quickly move away.
10. Keyword Stuffing
Google and your visitors don't like your website to be too much keywords stuffed. A 500 word article with 20-30% keywords will make a poor read and your site will be penalized too by Google. Stay away from it and use only 2-3% keyword density.
Kool Design Maker is the expert Web Design Company in USA offering graphics designing, flyer designing, web design, Static website design  and printing services. Visit Us NOW any design or development project.