Business is all about marketing and advertising, without doing effective marketing we can't grab customers' therefore different marketers and business owners use different mediums of marketing and advertising. Usually we use online marketing methods like email marketing, SEO, social media marketing, banner ads, email newsletters but when we talk about potential marketing in local business market there are different ways which are very effective and helpful to get good figure of traffic as well as business. Here we are going to talk about these mediums of marketing except online marketing methods. If you are tired with online marketing methods and you are not getting enough from them. You just need to forget about them and use these mediums of marketing which are these;
Door Hangers:
When we talk about local business marketing door hanger is very effective way of advertising and it is very helpful to increase business leads in short time. Most important benefit of door hanger is that you will get calls or quires only from potential customers because only those people will contact you who are interested in your products or services. If you are running a restaurant, saloon or book store in your area and you want to target a particular city or town then door hanger is the best choice because when you hang your door hanger on people's door definitely they will read it carefully and if they are interested they will call you and if they are not definitely they will remember you whenever they need services or products related to your business. Keep in mind while choosing door hanger designers that only professional and experienced designers can design such attractive door hangers which can grab viewers' attention. So always hire professionals to increase your call of action in your door hangers.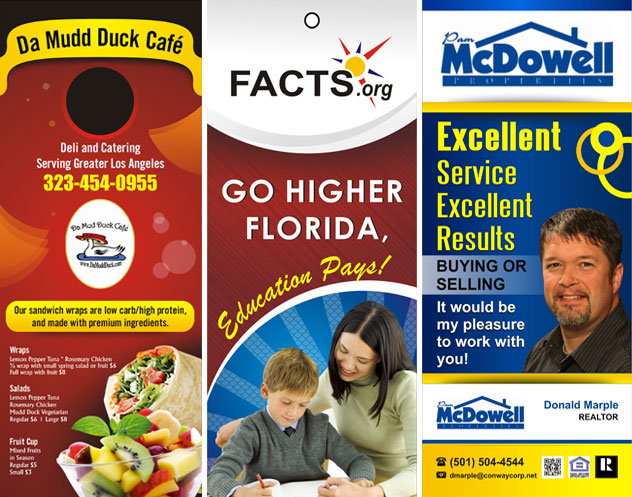 Pamphlets:
A pamphlet is an unbound booklet, it may consist of a single sheet of paper that is printed on both sides and single side, and it depends on your needs. Some people mix them with brochures but these are different. It is the part of hand to hand marketing in which you spread your printed stuff to people just to tell them about your brand, product, services, business, event or some discount offers. Different people use them in different ways, some use them for religious purpose and other use them for propaganda but it is up to you that how you use them. Pamphlet has power insist to read the person who is holding it. It doesn't matter he/she is going to buy something from you or not, but you can leave a mark on his/her mind and it will happen only when your pamphlet has eye-catchy text and discount offers. So if you want to cash the power of pamphlet marketing you need to hire professional pamphlet designers for this purpose.
Postcards:
You can use postcards for different purposes; smart marketers use them for business marketing because when a receiver is getting this by his mail box definitely he has time to read it. Among these moments when a receiver is reading your postcard you can tell him about your business, new offers, discount deal, events etc. Now it's up to you how you cash these moments. Some people think that now mail boxes have not much importance when we have e-mails, social media sites and other mediums of online connectivity but only smart marketers know that if a person has time to check his mail box why not he has time to read his posts? So in local business market never forget about postcards because you can boost your business in very short time via custom designed post cards.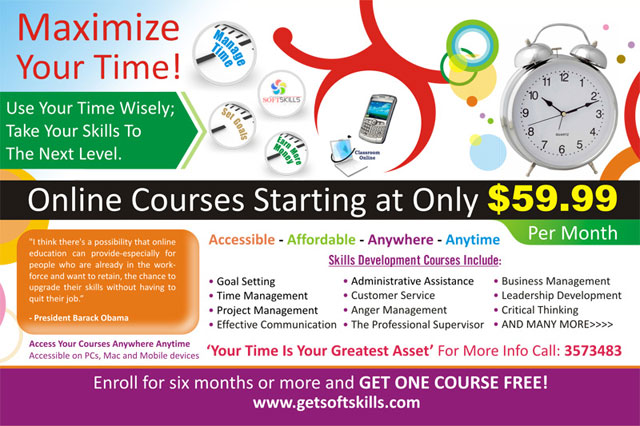 Posters:
Posters have different sizes, usually designers create them in A1, A2, A3 and A4 size but you can get them in custom sizes according to your business needs. Generally people think that these are just for political purpose as politicians use them in their election campaigns but that perception is totally wrong. When you talk about marketing you just need to find out all those methods, mediums and ways which can help you to market your brand, products and services. In this scenario posters are very helpful; you can do massive advertising in local market as these are cost effective. You just need to get an attractive poster design and then print it perfectly and hang them or paste them on different places (in ethical way) you will find better results.
Stickers:
Marketing experts call them long-term marketing investment because sticker is not going anywhere if it has great quality. There is not a fix or standards size of a sticker; you can get them in any sizes. No matter you are small business owners or running a corporate business these are equally effective for both. You don't need to worry about budget because you can get them in affordable rates. It depends on you how much you want to invest on stickers marketing, definitely if you invest low you will get limited benefits but multinational companies invest a lot in stickers marketing, especially we see these customized stickers on public transports. Car bumper stickers are also effective and very keen source of marketing. Marketers always love to invest on stickers marketing because they know their benefits.
All above mentioned mediums of marketing and advertising are very keen, effective and helpful to boost your business in local market. Just forget about online marketing for some days and try these ways, you will find better results. Now if you are looking for a best graphics designing and printing agency to get these things in affordable rates, your first priority should be www.KoolDesignMaker.com because we have more than 10 years of experience in this field and we know the importance of these things. So feel free to get best in short notice with 100% perfection and satisfaction.