The rapid increases in the rate of emergence of small and large scale business corporations have made this world a world of brands and logos. Logo designs for representation are not only a thing with profit orientated business but is also the case with charitable institutes, social awareness firms etc.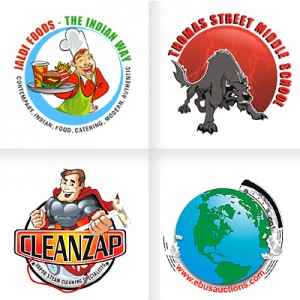 Just look around you and you will thousands of logos out of which some you identify instantly because you may be their customers or they have unique styles which have easily become a part of your memory. Brand identification is the most important aspect in promoting the business of a company whether it's selling biscuits or its selling luxury cars. You can make your brand stick in the minds of masses by giving it a unique logo, a story or something which they can relate to their life. That's where the idea of custom logo design pops in. if you consider my approach; I normally design logos by myself but wait, because I always give them to some professional designer in the end. This process of my own has allowed me to incorporate three vital tips which can always prove helpful for you:
1. Add Uniqueness
How many times it has happened that you have found a company logo design to resemble another one. Uniqueness is something which is a must trait and especially for the same scale concerns as the marketing world only gives them one to two chances of making themselves a part of the people's memory. If your logo design fails to click, then you are off the playing field. So always ask your designer to add the flair of uniqueness.
2. Meaningful And Creative Tagline
If you have a new business, than you need to consider the fact that you are not something which has been absorbed by masses and this requires you to keep the tagline of your business significant and simple. A sharp, simple but an important tag line which can give a meaningful idea can allow you to touch base with your customers and potential customers. This requires you or your designer to think the way the people think as this helps in coming up with a tagline which instantly hits their mind.
3. Make Your Customers A Part Of This Process
This is something which makes your name easily known. A custom logo design can also be established through your customer's selection. Get some designs for your business and invite your customers to put in their ideas about how they feel about the various designs and which designs do they think suits best. After they pour in their votes and concepts, go with the majority and this will not only enable you to develop a custom logo design, but it also be easily remembered by your customers.