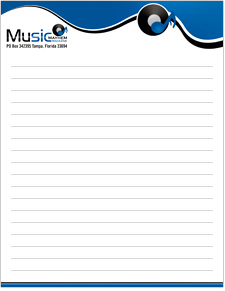 Every person who is an inventor, creator, business professional, worker, thinker, writer, columnist, blogger needs their own personalize notepads to making their notes and writing down some important ideas and facts regarding their work, and every time they write something on it they just blessed the soul of person who invented it. Professional organizations use to print their own customize notepads which give them benefits in many ways like they help to increase explicit knowledge in an organization, they help to increase moral of their employees and the most important benefit is, notepads keeps organizational informative safe and let it increase with a passage of time because different notes and useful information prepared by senior during some task are helpful for the other new hires.
These are some professional benefits which are provided by notepads but there are lots of other benefits regarding marketing and non professional purposes are also provided by personalize notepads.
These benefits are:
•    Serve as marketing tool if you send your personalize printed notepads to your customer and clients as a gift
•    Helpful in preparing notes during different tasks
•    You can make your time tables on them and note down some important tasks like business meeting, seminars info on them
•    Notepads build your professional image and professional presence among your clients and customers
•    They provide a very cost effective way to promote your business indirectly among customers
•    They brilliantly promote your brand awareness
•    Notepad is not a perishable item so clients and customer can save it with them for a longer period of time which interns cause to make them remember about you for a longer period of time.
These are some benefits you can get by printing your own personalize notepads. Notepads are equally beneficial for large and small business entrepreneurs because that is still one of the important item used in a office stationary. So nobody can deny the importance of notepad designing and printing for professional and non professional purposes.