The competition among restaurants is high, so it may be the perfect time to dust off your old restaurant marketing strategies and take a closer look at current trends of successful restaurant chains. An OPEN sign with neon red glowing lights in the front window of a restaurant has become an old fashion.
We are here to let you know some effective and proven marketing plans that have worked in past for restaurants. Restaurant marketing isn't that easy now as it was in the past. It has become critical for restaurants to build a strong online presence.
The use of yellow pages for restaurants marketing is an old technique now. Customers have moved to the search engine and consumer review sites to find the best local restaurants. They want to read consumer reviews and the restaurant menu; restaurants with a strong online presence are preferred.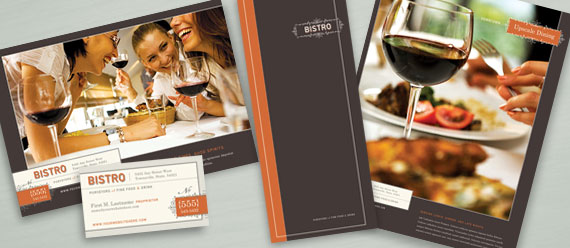 As a restaurant owner or manager, you should adopt both online and offline marketing methods for success in business. In this blog post I'm writing about offline marketing ideas for restaurants, the next article will be on online marketing ideas for restaurants.
Promotion through Flyers
Using flyers is a cost effective restaurant marketing idea. Hire some part time employees for distribution of flyers at different events and in door to door campaign. The flyer must have promos, specials, discounts and offers available at your restaurant. It must be concise and to the point, having a catchy tagline, visible call-to-action and good graphics that speak about the delicious food you offer. Remember, never add text in paragraphs on a flyer, use bullet points for describing the benefits.
Read my previous article on "5 Tips for Designing a Coffee Shop Flyer"
Serve Specials On Doorknobs
Use attractive door hangers to catch the eye of the visitors as they walk into your restaurant. The first thing your customers look at and touch is the doorknob, customers will definitely notice specials hanged on them. You can also display door hangers at departmental stores and retail shops (seek permission), this will result in greater exposure for your restaurant.
Use of foodie images put a positive impact on a customer's mind and do not forget to insert your contact details. This is a cost effective marketing strategy that results in more exposure to your restaurant.
Restaurant Menus
Designing a menu and other print items is a tricky task for any restaurant. So the best way is to hire a professional restaurant menu designer company for all the design works. Always send an extra menu in all "Take Away" and "Home Delivery" orders. This will result in more orders from the same customer in future.
I hope these three offline restaurant promotion ideas help you along the way. If you'd like our assistance with Web Design, Graphic Design, Door hangers Design, Flyers Design, Vinyl Banners Design, SEO or Printing Services, get in touch with us today. Call us now at 1-888-786-7861 or Visit www.kooldesignmaker.com.