Rack cards play a very crucial role in product marketing. The main goal of a Rack card is to gain the attention of the customers while they are in queue for making transactions. Racks cards are majorly used in banks, schools, hotels, franchises of telecom companies and tourism related offices.
You might have seen rack cards at a bus station, placed there for promotion of various destinations. Travel agents place rack cards on their office tables for promoting different packages.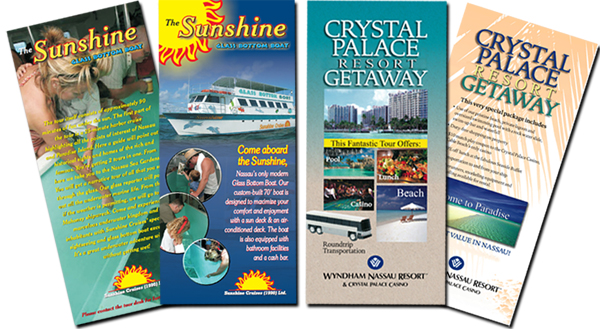 While designing a rack card, always remember that is must compete with all other cards for catching viewer's attention. These days, bold photos and catchy title are used for gaining attention of viewer. The design of top half portion of rack card is crucial, since the cards are placed in a metal or plastic rack and only the first half of card remains visible in a rack. So make the first half more attractive and catchy.
Use attractive and decent color scheme in the rack card design for making it view-able from a distance. Print a sample of your design and place it in a rack stand for having an idea how your rack card will look.
Add main headline, photo, contact information or call to action at the top of rack card. If you are designing dual sided rack card, you can include a list of products or services at the back side. If you are designing a rack card for a restaurant, consider adding a menu of special dishes on the back of the card.
In short, focus on the front side first half of rack card for the main idea and use remaining space for other required items.
Rack cards are cheap and effective sales tools for any type of business. Rack cards have two standard sizes: 4" x 9" and 3.5" x 8.5". It is important to use one of these sizes since most card racks are built for these sizes of cards.
Selection of paper for rack cards also needs attention. You will also need to choose a paper stock, mostly glass, matte or uncoated cover paper is used for printing of rack cards. Many printers offer foil stamping to better catch the eye of the viewer and some offer gloss aqueous or UV coating for durability of rack cards.
When designing a custom rack card, also consider whether you want the cards shrink wrapped or whether you need rounded edges on the cards.
For a rack card design, it is very important to clearly deliver the main message at the top. Make it easy for readers to understand what action they are required to take. The rack card must leave a memory in viewer's mind about your services for future use.