It is not difficult to get a website, but it is very difficult to get a perfect user-friendly website because there are lots of things to keep in mind while designing a user-friendly site. We do business for people not for animals or robots therefore in every business we have direct engagement of people. So it is necessary for every business to make it easy and simple for every kind of people. Nowadays every business has its online presence; in this scenario a user-friendly website is necessary. Some people say that you should make your website search engine friendly but they forget about users. Users are the main stakeholders therefore you need to keep in mind while designing a website and it is also search engines' policy that you should focus on users' facilities while websites designing & development. Here we are going to share some most important and top tips which can make your website user-friendly.
Responsive Version:
First of all the most important thing in a user-friendly website is its responsive version because we all know that now people love to search via their phones, tables, iPod etc because they have internet facility in their phones and smart devices. So every webmaster and website developer should keep in mind that a responsive and mobile friendly website is necessary to get good response from visitors.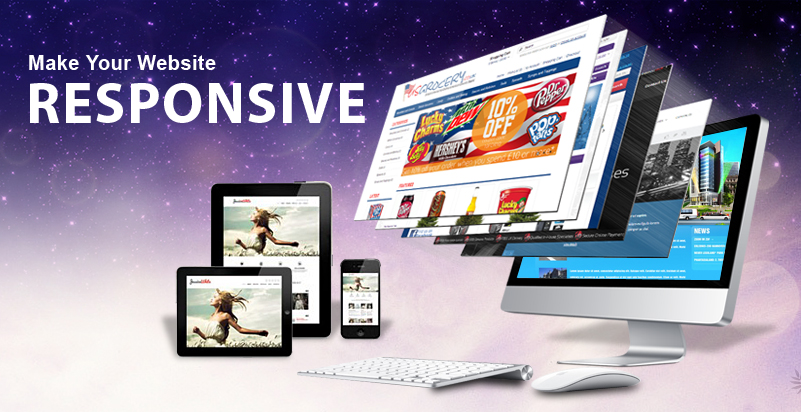 Speed Up Your Website:
Your website speed has great importance therefore your website should be fast in loading and it is all about developers that how they are developing your website and which CMS they are using. For example if your website is loading in 1 minute definitely visitors are not going to wait. You just have few seconds to catch the visitors if you lose these seconds definitely you are a big looser. Here is the great informative article about website speed Site Speed – Are You Fast? Does it Matter for SEO?
Easy and Simple Navigation:
When you visit a website or blog you want to find your required page, thing or product in ease way similarly when your visitors come on your website, blog or forum they need easy navigation to reach on desire pages. That thing save your visitors' time and visitors always appreciate these things. Everyone wants to save his time, when you will provide a clear navigation to your customers they will love to visit your website again and again.
Add Search Functionality:
This function is also helpful to save visitors' time, for example if you are running an online store (eCommerce website) and you have thousands of products and multiple services which you are offering to your customers, you need to provide them search opportunity to find particular products. That thing will help them to reach on exact product they are looking for and in this way you can increase your sale. Sometimes visitors don't buy products because they can't find them and when they can't find they thing you don't have that particular product. When you will give them opportunity to find particular stuff they will love your website.

Less Ads:
Everyone wants to earn money and website ads are very effective in this scenario but your ads should not be annoying. Sometimes we visit a blog or website and we find pop up ads which even don't allow us to see the site and we spent our time to find the exit button. It is totally unethical and awkward; every webmaster should follow on "less ads" policy to save visitors' time.
Easy and Clear URL Structure:
Make it sure that your visitor should not lost on your website or blog. Visitors always know where they are and where they need to go and it is only possible when you provide them a clear, clean and easy URL structure. A clear URL structure will help them to understand where they are and in this way they will enjoy to stay on your website.
Simple & Informative Content:
Your content is not just for search engines, yes I am talking about Google Panda Algorithm, infect it is for your visitors and you need to make it simple, easy to readable, informative and easy to understand. Your designer need to use simple font style which should has clear visibility and readability. In this way your visitors love to read your website's content.
Contact Details/Contact Form:
Correct, easy and clear contact form and contact detail is an important part of good website user experience. You should provide your physical address, contact numbers, email address and map to help your visitors to reach you. If you don't want to public these things you should provide a contact form on your contact page. You can link your social media profiles on your contact us page that thing will help your visitors to contact you in all possible ways.
Social Media Integration:
In this digital and technological era, social media sites have great importance and we can't neglect them while running an online business. Social media marketing is very helpful method of marketing therefore every webmaster and website developer need to integrate social media sites on blog and websites. This experience will help you to go viral and you will get better response.

Clear Privacy Policy and Terms & Conditions:
If you are selling products or offering services online you need to make a privacy policy and terms and conditions page to tell your customers about your business rules and policies. When you create these pages your customers will be very clear about your business policies which will help both of you (seller and buyer) to stay away from disputes and you can defend those things which are not include in your policies.
These are some very important and top tips which can make any website user-friendly. Without having a user-friendly website you can't achieve your business goals because your visitors will not stay on your website. So make your site perfect and get boost in online business. If you are looking for professional website designers and developers who can provide you perfect user-friendly website you just need to visit www.kooldesignmaker.com/website-design where you will get perfect website having all above mentioned features.