We all know that twitter is the most important, fast and famous social media site. Billions of people are using twitter for personal usage as well as for business development and online marketing purpose. According to twitter's own official statement there are "271 million monthly active users" on twitter that figure always attracts online marketers who are exploring new opportunities of business growth and marketing. On twitter it is all about the figure of followers who are following you, more followers mean more opportunities of business. If you get good figure of followers you can reach to those people who can increase your website traffic and sale. Everyone on twitter is crazy to get more followers. Now the question is that "How to increase twitter followers?" it is common question from twitter users. Different social media experts wrote about it in different ways. Here we are going to share some most easy, important and effective tips which can boost your twitter account.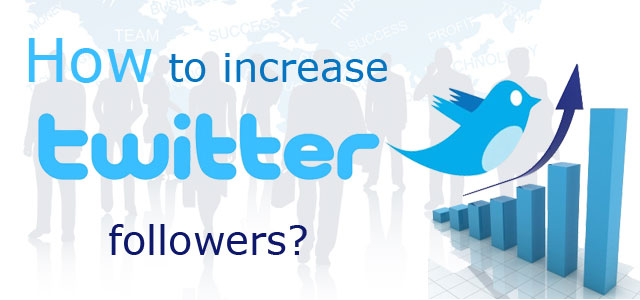 Make Sure Your Profile is Looking Perfect:
First of all you need to make it sure that your profile is 100% completed because if it is not complete people will treat your account as a fake account and that thing will ruin your purpose of marketing on twitter. You need to put these feeds while profile making.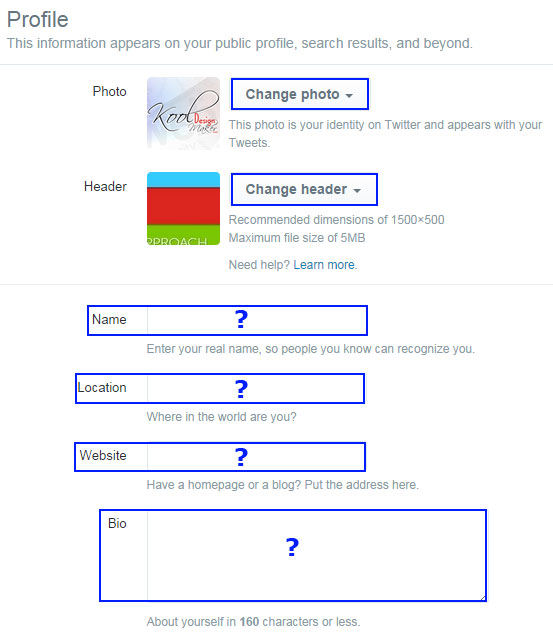 When you will put all these feeds it will make your account real because there are thousands of fake accounts but you need an original identity. So never forget to fill these feeds before using official twitter account.
Follow Relevant People & Accounts:
As we discussed, hundreds of millions people are using twitter on daily basis, but you need to follow just those people who are relevant to your field or business. If you are using twitter for personal usage you need to follow those people who are famous in your city and country and they tweet on daily basis. When you are using it for business purpose you need to follow those accounts that are related to your business nature or field, that move will help you to get good response.
Increase Your Interactions:
When you are following particular accounts, now you need to interact with them directory you can start it from "thanks for follow back" reply when you got a follow back from any account. That thing will prove you decent, professional and a gentle person. Great things always start from small things, so start from small things to reach the greatness.
Retweet & Respond Relevant Tweets:
Don't be miser in responding and retweeting, especially in retweeting because that thing will help you to get more and more retweets which will boost your account and your will get lots of opportunities to get new followers. When you respond any tweet related to you that think make happy to those who are replying or mentioning you. So be original and keep retweeting and responding to be famous.
Keep Tweeting:
If you want to remain silent don't join twitter, because it is all about tweeting, to express your views and thoughts. You are absolutely free to tweet anything related to anything. So if you are using it for personal interest you should tweet when you get time. If you are using it for business purpose you should make noise there to show your presence.
Keep Following:
Everyone wants to increase his/her community on twitter similarly if you want to increase your community you need to follow more and more people and don't stop this thing but never look like a spam because there is a limit of following people for new users. So keep following but follow the rules and enjoy your followers' tweets and respond them in ethical way.
Ask for Retweets & Follow Back:
Don't be shy in this matter because you want to increase your followers and you want to make your account famous, so when you follow an account you need to ask a follow back to him/her. You can also ask for retweets but believe me you will not get follow back and retweets until unless you follow and retweet other.
Tweet Responsibly:
There are lots of people who are spreading rumors on twitter and they have fake accounts but you need to be original and you don't need to spread the rumors because once you lose your credibility you will never get it back. Always keep in mind when you are tweeting that tweeting responsibly can help you to be famous on twitter.
Tweet Unique & Interesting Content:
For personal account you can tweet some interesting quotes, news and sayings and for business usage you can share about your new offers, products, services and discount deals to get attraction and attention. If you have a blog you can share your posts and blog links on your twitter account. Never tweet same thing again and again because if you will do it people will think you are spam.
Promote Your Twitter Account Through Other Channels:
You can include a "follow me on Twitter" call to action in your email signature file, email newsletter and all other correspondence as well as at the end of your blog posts. You can connect your twitter account with your Facebook and Pinterest. That move will help you to go viral and you will get better response from other people who are connected with you on other social media sites. You can directly ask your friends, colleagues, classmates and followers' followers to follow you on twitter. In this way you can promote your twitter account rapidly.

Hopefully these tips will help you to boost your twitter account in short time. If you need a creative and stunning twitter header design you can get it from Kool Design Maker in affordable rates. Follow us on twitter and keep in touch to know about latest discount deals and to get professional designs in the field of graphics, web and printing.