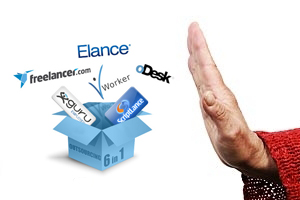 Hiring a freelancer can be your worst decision under particular circumstances, you might go for freelancers because you think that it saves your money but in reality it's not true. In this article we are going to discuss the reasons why hiring freelancer is not a good decision for big brands, corporate businesses and new firms.
Trust:
The best thing about hiring a professional designing company is a trust. They are working in an online designing industry from years. They have good repute in the market and people trust on their quality of work. Unlike freelancer, they are completely new in the market. You never interview them, investigate them and judge them and you don't know about their skills.
Creativity:
Mostly freelancers are fresh graduates and they lied about their qualification and experience, but when they deliver you work you realize that you are in a problem. Their works do not hold creativity and uniqueness. Even if you are a small organization you cannot afford to stake your reputation by hiring a freelancer.
Lake of Professionalism:
Freelancers don't provide you any complimentary services like free changes, redraws after delivering their work. On the other hand a good designing company offers you complimentary services and tries to establish long term relationship with you. This is what called professionalism which differentiate freelancers and professional designing firms.

Wastage of Money and Time:
If you not get what you promised then it means your time and money is completely wasted. The other big issue of hiring an unprofessional freelancer is you cannot reclaim your money from them. You don't know that what they are saying is a truth or not. You cannot take any legal action against them.
No Reference:
If someone refers you about a good company then there is nothing more important than that because who is referring you, must has experience to work with them. But in a case of freelancers no one can say that what he or she is saying is a truth, and they deliver what they are promised you.
So always go for a well reputed, established and professional company like www.kooldesignmaker.com rather than hiring cheap freelancers.