Bumper stickers are one of the cost effective way to advertise your business or your product and services because where ever your car goes your ads is also going with it. Placing a sticker on your car is not only making your car noticeable but also makes it unique from other cars running around roads. So creating an attractive and astonishing sticker is really an art because if your sticker does not have these qualities no one wishes to have your sticker on their car. We have to be very careful about choosing a perfect design for your bumper sticker add, and also take care that it shouldn't miss its bizarre look perfect for your car.
Due to these important reasons one should always design stickers from a professional bumper stickers maker due to these good reasons: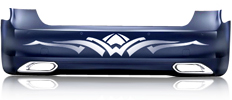 •    Professional bumper sticker maker are experienced and trained in designing them and they can tell you exactly what you have to pick
•    Due their professional skills and knowledge they use the best colors, themes  and objects for designing your bumper sticker
•    They use such creative and motivate character which can convince people to place your stickers on their car bumpers
•     They design such attractive and unique stickers that grabs everyone attentions in a second and can really create a buzz in market about your product or service
•    They save your precious time money and effort by creating your bumper stickers.
•    They can guide about your professional needs and can make your imagination a reality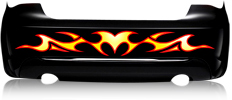 At Kool Design Makers, we have best designers who have years of experience in designing your bumper stickers on a very affordable and economical prices. We provide our services at very cost effective rates and can design high quality bumper stickers which can really create difference in market. We believe in customer satisfaction that is why we offer a service of unlimited changes for free because we consider our customers a valuable assets.