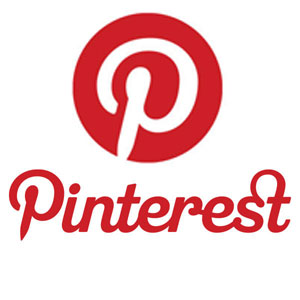 If your business is still not connected with Pinterest then you are losing lots of business opportunities and you are not perfectly doing social media marketing and definitely you are neglecting the widest and effective source of advertising and marketing. There are lots of opportunities to get traffic and business on Pinterest. I have seen many business websites those are having social media icons on their website except Pinterest icon, may be they are not aware of its importance or they don't know how to use it. Here I am going to share step by step guide to make a brand new business account on Pinterest.
Got to Pinterest for Business and join it as a business
Fill in the required fields
Read and accept the terms and create account
You will get a confirmation email, confirm it and start pinning
What is Pin in Pinterest?
Here is the official definition of Pin by Pinterest help center.
"Pins are visual bookmarks that you collect on boards. You can save Pins you find on Pinterest or add new ones from your favorite websites. Hover over a Pin you want to save and click Pin It. Or, click the Pin to see it close up and click Pin It."
Get the customized URL and confirm your site for Pinterest profile, follow these steps
Go in settings
In profiles section put your desire username in "username" field
In website field you should put your website address and confirm it
You will get a code for confirmation of website, put it in your website header
Save settings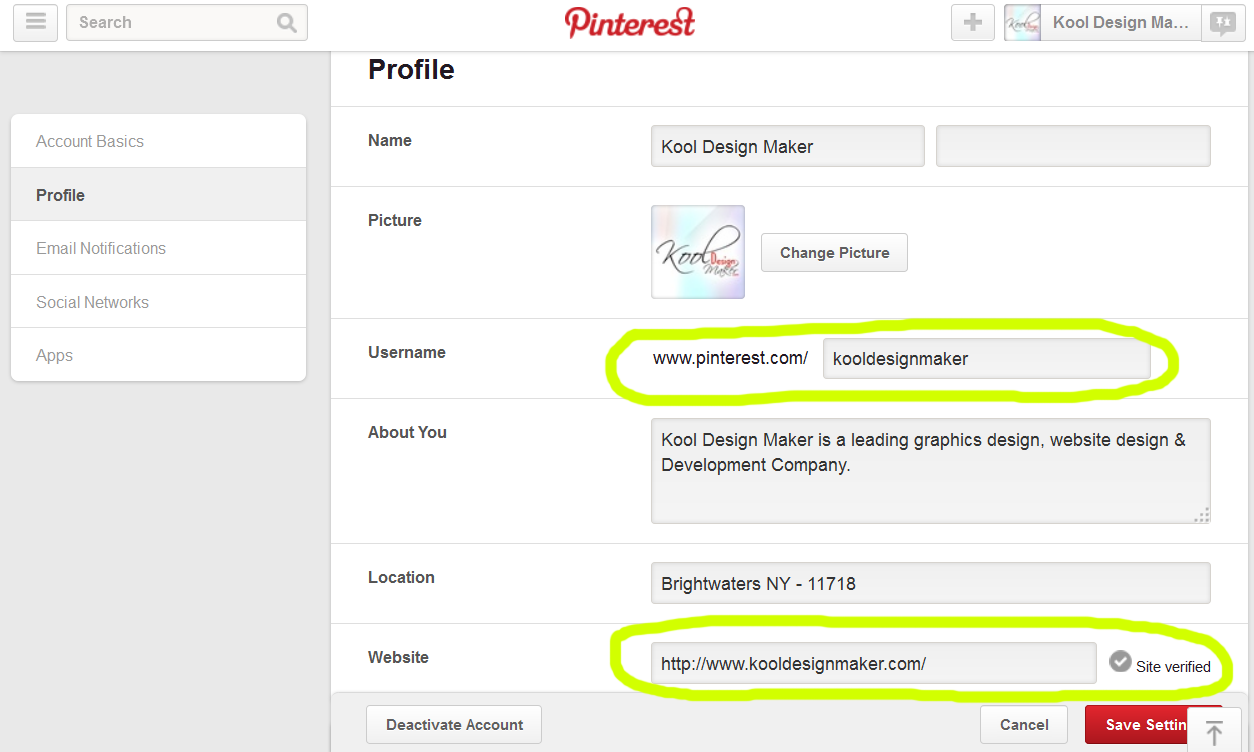 You will get a customized Pinterest link for your business; connect it with your website.
After get knowledge about Pins you should know about boards because it is the most important thing in Pinterest.
What is board in Pinterest?
Board is like a folder in which you will collect your Pins; you can add new boards according to your requirements with any name. For example your business is related to ladies fashion and garments you can create boards with different names like "Lipsticks" "Braids" "Stockings" "Tops" "undergarment" etc to differentiate the products or fields you are dealing in. When you pin any image you have to select a board name in which you want to pin, for example you are going to pin lingerie you should select its board "undergarment". You can create any board at any time; here is the example of different boards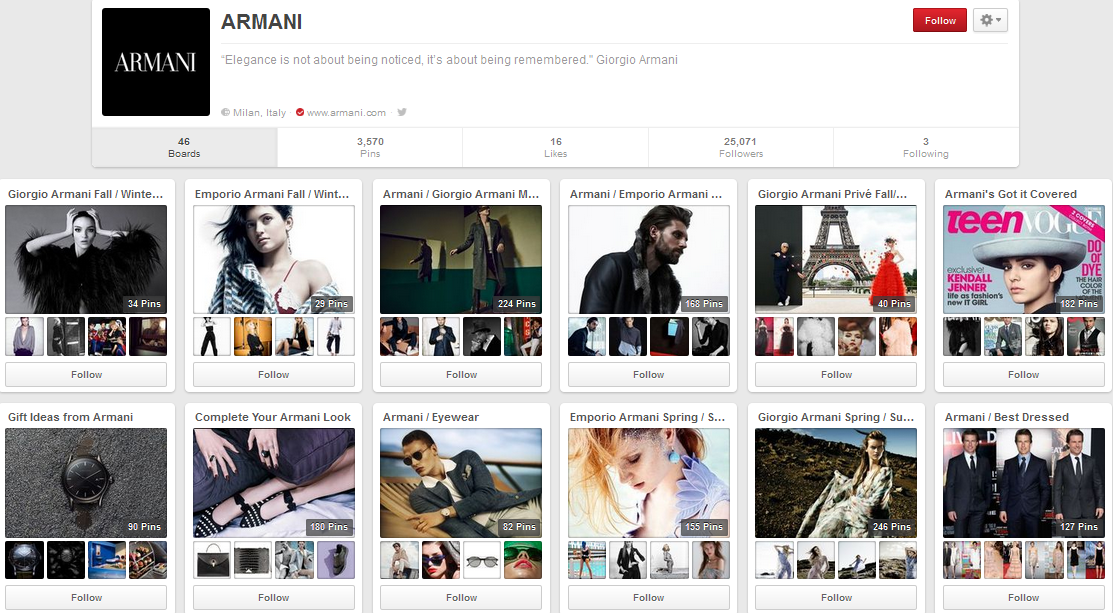 When you will follow a board you will see all the pins on your own wall. If your business has 25 different products you should build 25 boards, one for each product and pin more and more visuals to spread your products and to advertise and market your brand. If you want to go viral on Pinterest you should follow more and more people and boards same like Twitter where more followers mean more opportunities for traffic and business. Build a good figure of followers in Pinterest and show your social media presence to world.
Connect with other social networks on Pinterest
Pinterest gives you opportunity to connect your business account with other social media sites like Twitter, Facebook and Google Plus etc and it also gives you opportunity to login your Pinterest account via Facebook and Twitter, Google+.
How to connect with other social media sites in Pinterest?
Go in settings
Find the social media section
Put your social media profile links in different fields
Save settings
It will help you to go viral which will bring new business opportunities.
Now you can connect your business with Pinterest and enjoy a keen and vast source of advertising and marketing. Don't forget to increase your followers on Pinterest, follow Kool Design Maker on Pinterest and keep in touch with us for creative and innovative designing stuff.