Each famous business has its own unique customized logo design. Facebook has a character 'f', LinkedIn characters 'ln', Twitter a bird, Nike a tick and Apple an apple. All of these are the identity of the specific business.
The logo is one of the most recognizable things about your company. That's why you need a simple, striking and professional logo design for your company.
You could hire a logo design company to work on your brand, or you might prefer to do your logo design work in-house. If you want to design the logo by yourself, you'll need the right tool for this job.  Given below are 9 best logo maker tools:
1. Adobe Illustrator
Adobe Illustrator is a part of the Adobe Creative Suite and the king of graphic design software. It includes a pack of logo design features that give you control and modification access over every aspect of your logo design.
For beginners, the pixel grid tool makes it easy to align objects, while the brushes, shape-building tools, and advanced path controls provide the easiest design almost any graphic of your requirement. Visual effects, Typography and tracing engine help in converting raster images to editable vectors add to the arsenal.
However, Adobe Illustrator can be a little difficult in use for beginners. If you're new to graphic designing, a more basic design tool will be good for you.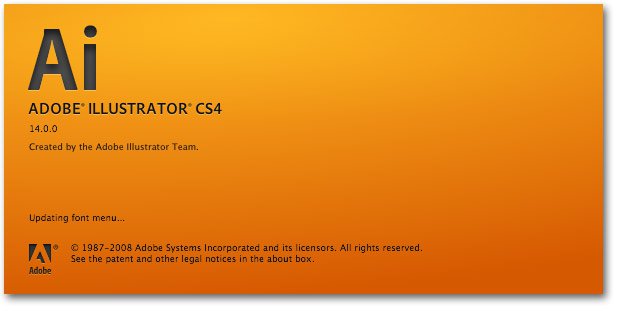 2. Logomaker
If you just want to design a logo for your business, Logomaker could be the perfect tool for you. Even those people having no previous graphic design experience can create a simple brand new logo. You will find a huge selection of artwork, thousands of icons and images, all designed by professional designers. What you will have to do is add your text, select a font, set color scheme and spacing.
You can design and save up to 6 logos for free. If you want to get free logo, the end product will be a HTML code to copy and paste on your web page. If you want to save high resolution logo designs to print on business cards or stationery, you will have to pay $49 for one logo design.

3. Laughingbird
Laughingbird is same like Logomaker. You don't need to draw anything, what you will have to do is select the given icons and join them for new logo design. The software is available for both Windows and Mac with a free trial.
Laughingbird software features 200 templates and hundreds of graphic elements. You will have to pick and drop objects onto the canvas. You can also upload your own object from a PC or import custom graphics from the web.
You can save your designed logo in jpg, gif, bmp, tiff or transparent gif/png format. You will have full rights to use your logo or even license it to others.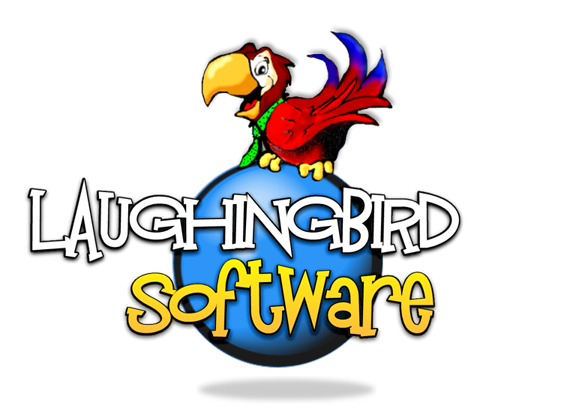 4.Squarespace Logo
Squarespace Logo is a free logo maker tool by the Squarespace CMS platform group. The logo design process is very simple; you start by typing business name.
On the second step, you will see the panel to enter an icon and tagline. You can change the font style, color, size, and position of the text. You can also change the size, color and position of the icon.
On the completion of design work, you can save a free 400×400 low-resolution logo with a watermark of Squarespace or a high resolution logo of 5000×5000 with no watermark for $10.

5.LogoYes
LogoYes is a paid logo design tool and does not offer free logo. You will have to make payment for downloading the designed logo.
This online logo design tool is very easy to use. Select the graphic art for your logo, drag-and-drop canvas, add text, select font style and make other small tweaks. LogoYes does not provide feature of special effects, you can only use one graphic art per logo. You can create a clean and basic logo with this tool.
If you want to download your design and receive all the source files with high resolution versions, LogoYes charges 99 cents.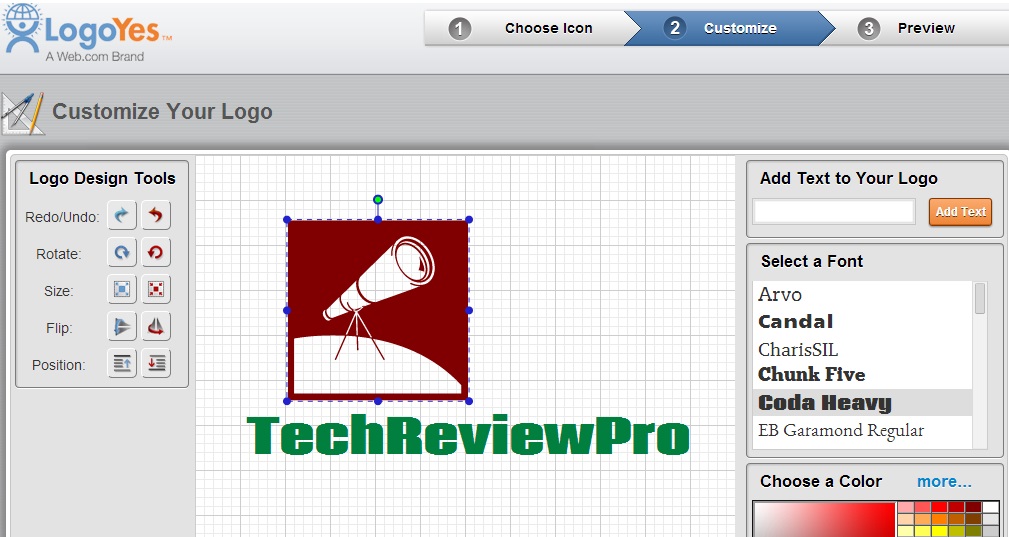 6. Summitsoft Logo Design Studio
This software is available for free trial. It comes with 1500 pre-designed templates covering major business industries,  from cleaning to construction, finance to food, and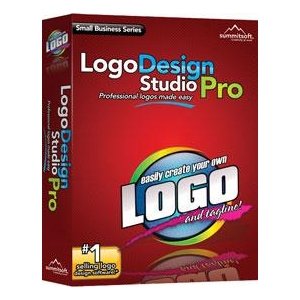 thousands of logo objects to choose from. Select the color scheme, shapes, fonts, and effects; you can also import your own graphics from web or PC to personalize your logo.
You can print your logo in high resolution. Just Laughingbird, Summitsoft also allows to sell your designs to others.
7. LogoGarden
Founded in 2011, LogoGarden is a free logo maker tool. It has been used by over 2 million entrepreneurs. You will have to click on the orange Create my FREE logo button on the website. It will take you to the wizard to choose your business category.
In the next step, select color & typography. At this step, you will provide your business name and tagline. You can also customize logo here. On finishing design work, you will be able to save your logo. You will be required to create an account first, on successful verification of account, you will get the option to download a low-resolution free version of your logo or buy the high-resolution logo version for $12.95.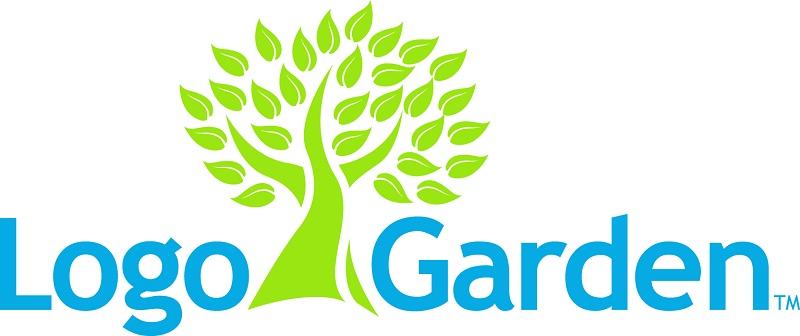 8. Sothink
Sothink's Logo Maker allows you to build a free template or creating your own from scratch, or edit an existing logo.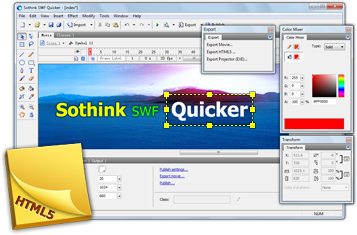 Sothink Logo Maker tool helps you in customizing smart seven vector drawing tools, color tools and a few special effects, which can be used for text. On completion, you can save content png, jpg, bmp, tiff or svg format.
9. GraphicSprings
GraphicSprings is a professional logo maker tool allowing you to design your desired logo. The final product is paid, and it does not offer free download. You can see at hundreds of logo styles created for many industries before starting your logo design process.
To start the design process, click on the Get Started or Start Logo button on the website. On the next page you will have to provide your business name. In the 3rd step, you will be able to select already built style or design your own. Once you're done, you will be presented a preview of your logo and for downloading the high-resolution logo you will have to make a payment of $39.99.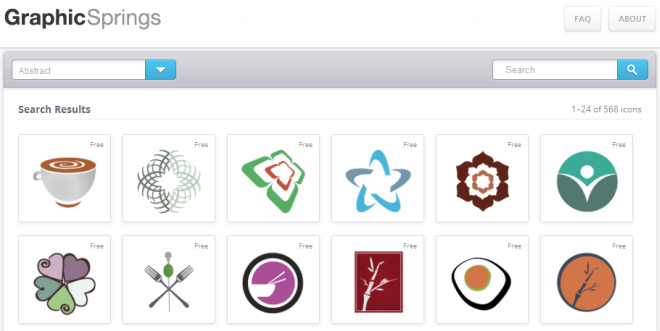 Recommendation
Free logo design tools are good for small businesses, but using tools for creating tools is difficult for many people. Creating creative and unique logo design that represents the nature of your business is not possible with free tools. Design of logo should be unique as it will represent your business. I'll suggest you to hire any professional logo design company, as they will give you creative and new ideas about your logo. Graphics designing companies work with dedication to make unique and best logo designs.